2019-2020 School Year Lab Staff
Michele Karnbach
Director- Outdoor Lab
Michele previously worked at the Outdoor Lab as a resource assistant and most recently has been teaching middle school science at Prince William County Public Schools.
---
Christopher Manaois
Resource Assistant, Outdoor Lab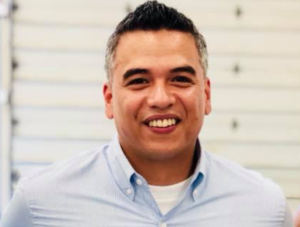 Christopher (a.k.a. Mr Bat) joined the Outdoor Lab staff in 2018.
Christopher stepped up to serve as the Acting Director of the Outdoor lab from Summer 2019 until the new director could start.
Serving Arlington Public Schools for a decade, Christopher worked with a wide variety of students ranging from elementary to post-secondary education.  He transferred to the Outdoor Lab from the Arlington Career Center.
A Virginia native, Christopher enjoys being outside as often as possible with his family, loves to explore the Shenandoah region, but contends there is nowhere more beautiful than the majestic islands of Hawaii.
He lives in Montclair with his wife and their three daughters.
---
Anthony Adamovich
Resource Assistant, Outdoor Lab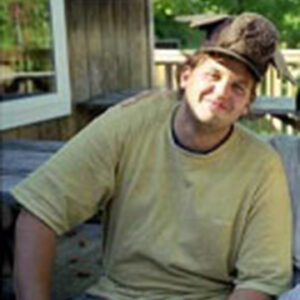 Anthony (a.k.a. Mr. Moose) has been working at the Outdoor Lab since 1991.
Anthony grew up in Arlington and attended APS schools. He worked as an intern at the Outdoor Lab in high school and helped build the original Outdoor Lab tipi as a Scout project.
Anthony went to Northern Virginia Community College and to Prescott College in Central Arizona. His continuing education has included study of native wild edible plants, wildflowers, and amphibians, such as becoming a certified FrogWatcher through the Smithsonian Conservation Biology Institute.
Anthony is also certified as a Wilderness First Responder. Among his many other experiences, he spent the 1997-1998 school year developing and leading programs for State Forests and Parks of Massachusetts under the Student Conservation Association and AmeriCorps.  Anthony enjoys playing music, hiking, birdwatching, and exploring and being in the outdoors.
He lives in Front Royal with his wife Na and their son Winslow.
---
Jessica Leslie
Resource Assistant, Outdoor Lab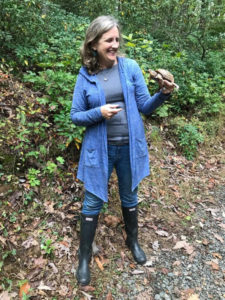 Jessica (a.k.a. Ms. Bat) re-joined the Lab Staff full-time in 2017.
Jessica Leslie grew up in Peekskill, NY, a small Hudson River town 45 minutes from New York City. Two Parkland preserves were in her back yard and both her parents were avid art lovers, conservationists and organic gardeners. The choice for her was always between hiking in the woodlands or studying art. The art won, Leslie attended SUNY Purchase and graduated with a Bachelors in Fine Art and Art History.  Most of her working career was in retail store design.
In addition she and her family enjoyed hosting Rotary Exchange students from 3 different countries Germany, Brazil and Indonesia. "This has been a wonderful way to expand our families knowledge of other countries and build life long friendships" said Leslie. In her free time she enjoys reading, painting, gardening, and exploring the natural world in all her travels.
Jessica began working at the Lab as a school based sub in 2007 where she has expanded her knowledge of Virginia's flora and fauna.  Jessica says, "Teaching through observation gives students one of the best learning experiences they can have in school, this is what makes my job at the lab challenging and inspirational as a teacher."
Jessica lives in Arlington with her husband Scott Moore, son Nigel,  a salt water tank of crazy beautiful fish and corals , and a fluffy cat Wally.
---
Charlie Resnick
Resource Assistant, Outdoor Lab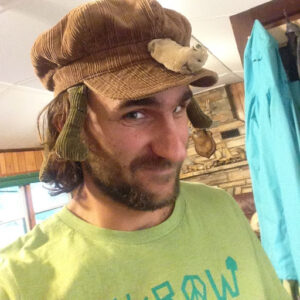 We welcome Charlie (a.k.a. Mr Turtle) back to the Outdoor Lab!
Charlie served on the Outdoor Lab staff since 2011, first as a counselor at summer camp then as a part-time assistant teacher from 2013 to 2015.
Charlie was born and raised in the Westover neighborhood in Arlington.  As a student at APS, he attended field trips to the Outdoor Lab. This early exposure to learning in nature, as well as experiences at Arlington nature centers and through the Boy Scouts, helped to define who Charlie is today. He continued to visit the Lab through High School as a student and a volunteer, which included the creation of a small gravel road adjacent to the meadow that served as his Eagle Project for Boy Scouts, and as an intern through the Senior Experience Program.
He believes that providing people with experiences in the outdoors, both educational and recreational, can inspire them to pursue efforts in conservation and to explore and cultivate their relationship with the natural world (other humans included).
---
Gayle Rainbow
Resource Assistant, Outdoor Lab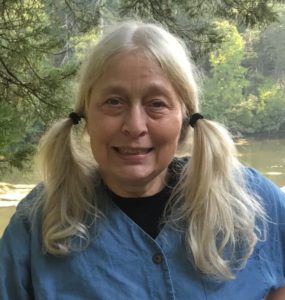 Gayle (a.k.a. Ms. ___) joined the Lab Staff in 2019.
Gayle is a practicing Licensed Practical Nurse and recently completed the Emergency Medical Technicians (EMT) training and is awaiting her national certification.  She also carries a certificate for Mental Health First Aid for Adolescents.
In addition to having a science background, Gayle enjoys the outdoors and has been an Outdoor Ropes Course instructor.
Gayle resides in The Plains, Virginia.
.
---
Hoang Nguyen
Custodian, Outdoor Lab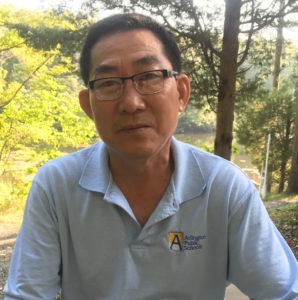 Hoang joined the Lab Staff in 2019 as its first full-time custodian.
Hoang has 10 years of custodial experience with APS and most recently worked at Ashlawn Elementary School.
He has extensive experience with both indoor and outdoor maintenance of buildings and grounds.
Hoang resides in Manassas, Virginia.
.
---
Various
Bus Drivers, Outdoor Lab
APS chooses 1-2 experienced bus drivers to transport classes on their Outdoor Lab field trips.  They pickup students at each school and safely get them to and from the Outdoor Lab.
---