"Connecting our students' curiosity to curriculum and conservation through
compassionate outdoor experiences at the Floraunaretum!"
           Love, Respect, Protect! 
Christine Payack
Director/Teacher- Outdoor Lab
Christine Payack (a.k.a. Ms. Turtle) is honored to be part of the Outdoor Lab community!  She joined the Lab staff in 2016 by way of Jamestown Elementary School (JES) in Arlington where she was a second grade teacher, the Science Lead and supervisor of the fifth grade Green Team. Her colleagues named her the JES Teacher of the Year in 2013-14.
Her public school teaching experience spans over 30 years in VA, NH and Cambridge, MA and also includes working with children and adults in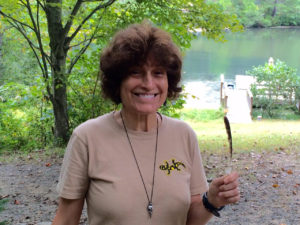 various afterschool, community and environmental centers. Christine's students called her the "Creature Teacher" because of her love for all animals domestic and wild. She earned a B.Sc. in Animal Ecology and Conservation from the University of Massachusetts/Amherst and a M.Sc. in Environmental Studies from Antioch New England Graduate School. Christine was recognized as the 1995 Massachusetts Audubon Conservation Teacher of the Year. She is a participant in the Smithsonian's Migratory Bird Center Bridging the Americas program. In the summer, she teaches at the National Zoo's Summer Safari Day Camp. Christine brings her passion for the natural world into her work with children –striving to teach children to care about each other and all living things– so they believe they can and will make a difference for the environment today and in the future.
Christine hails from New Jersey. She enjoys reading her field guides, sorting through her "biofacts" and learning as much as she can about nature.  She lives with her elegant retired greyhound, friendly cat, former classroom guinea pig and elder cockatiel.
---
Kate Sydney
Assistant Director/Teacher- Outdoor Lab
We welcome Kate Sydney (a.k.a. Ms. Katydid) to the staff of the Outdoor Lab!  More info soon.
---
Anthony Adamovich
Staff, Outdoor Lab
Anthony (a.k.a. Mr. Moose) has been working at the Outdoor Lab since 1991.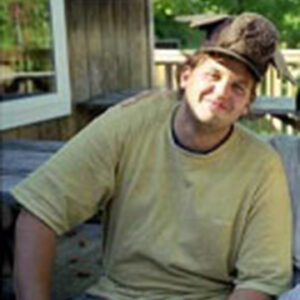 Anthony went to Northern Virginia Community College and to Prescott College in Central Arizona. His continuing education has included study of native wild edible plants, wildflowers, and amphibians, such as becoming a certified FrogWatcher through the Smithsonian Conservation Biology Institute.
Anthony is also certified as a Wilderness First Responder. Among his many other experiences, he spent the 1997-1998 school year developing and leading programs for State Forests and Parks of Massachusetts under the Student Conservation Association and AmeriCorps. Anthony enjoys playing music, hiking, birdwatching, and exploring and being in the outdoors.
He lives in Front Royal with his wife Na and their son Winslow.
---
Jessica Leslie
Staff, Outdoor Lab
Jessica Leslie (a.k.a. Ms. Bat) joined the Lab Staff in 2017.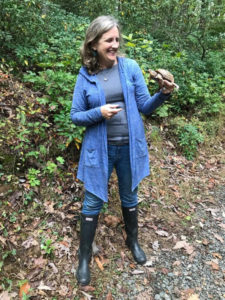 Jessica Leslie grew up in a small Hudson River town called Peekskill situated 45 minutes from New York City. There were two Parkland preserves in her back yard and both her parents were avid art lovers, conservationists and organic gardeners. The choice for her was always between hiking in the woodlands or studying art. The art won, Leslie attended SUNY Purchase and graduated with a Bachelors in Fine Art and Art History.  Most of her working career was in retail store design.
Along the way she moved to Arlington and chose to live here after she met and married her husband Scott Moore. Together they have one son Nigel who is 24, A salt water tank of crazy beautiful fish and corals , and a fluffy cat Wally. In addition she and her family has enjoyed hosting Rotary Exchange students from 3 different countries Germany, Brazil and Indonesia. "This has been a wonderful way to expand our families knowledge of other countries and build life long friendships" said Leslie. In her free time she enjoys reading, painting, gardening, and exploring the natural world in all her travels.
Jessica began working at the lab as a school based sub in 2007 where she has expanded her knowledge of Virginia's flora and fauna. Jessica says, "Teaching through observation gives students one of the best learning experiences they can have in school, this is what makes my job at the lab challenging and inspirational as a teacher."
---
___________
Charlie Resnick
Staff, Outdoor Lab
We welcome Charlie (a.k.a. Mr ____) back to the Outdoor Lab! More info soon.
---
___________
Christopher Manaois
Staff, Outdoor Lab
We welcome Christopher (a.k.a. Mr ____) to the staff of the Outdoor Lab! More info soon.
---
___________
NEW Staff, Outdoor Lab
We welcome a new Maintenance Assistant to the staff of the Outdoor Lab! More info soon.
---