The Arlington Outdoor Education Association is a public non-profit corporation who owns and manages the land and facilities of the Outdoor Lab.
Capital Planning for the next 50 years
The AOEA Board and Lab Staff have begun planning for capital improvements to keep the Outdoor Lab at the forefront of outdoor education for the next 50 years.  Committees are assessing current needs, facility limitations, land use options.
---
Buildings
Animal Lab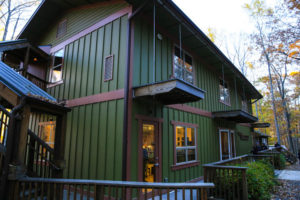 Built in 2010, this Leed Silver certified building houses the Outdoor Lab's animals and provides space for students to learn.
During inclement weather, students can be moved to the upstairs of the lab for sleeping.
Striker Cottage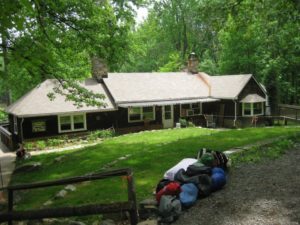 Striker Cottage is the original building purchased in 1967 with the lab property.  The cottage is a vintage ranch home that is the center of the Outdoor Lab housing, teaching and eating areas.
The Lab includes:
professional kitchen and eating area
staff offices, first aid, meeting and storage areas
observation deck
The Cottage has reached the end of its lifecycle and a replacement facility is being studied.
Tents & Platforms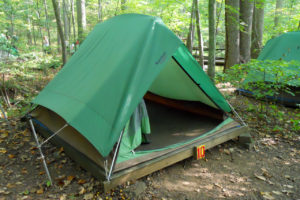 The Outdoor Lab provides tents and tent platforms for Fifth Grade Overnights (and Summer Camps.)
For overnights, students are shown how to use teamwork to erect their tents, install the provided sleeping pads and keep their tents clean.  Tent Platforms are arranged in two groups along a stream, with plenty of space for Adult Chaperones to have their own tents among the students.  Students also pack their tents the next morning .
(Parents- after the Overnight, ask your students about the "Burrito")
Bathroom & Showers
The Outdoor Lab has sufficient student bathroom facilities at the center of all buildings.  Showers are available for Summer Camps (not Overnights)
Tiny Houses (Staff Housing)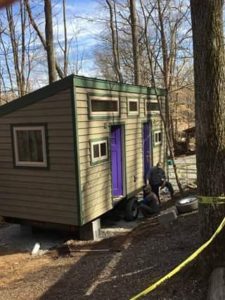 To meet an immediate need for staff housing, especially during 5th grade overnights, the AOEA Board brought in two Tiny Houses.  Each house provides two sleeping quarters and bathroom facilities.
With over Forty overnights each year, the Tiny Houses help Lab Staff continue to deliver their incredible programs.
---
Science Centers
Stream Science Station
Field Ecology Station
Boat Dock
Fishing Pier
Outdoor Amphitheater
 
Observatory
---
Lab Property
Biscuit Mountain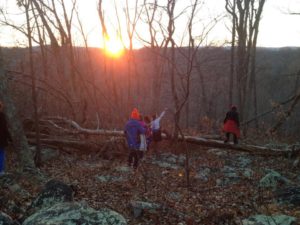 Champ Lake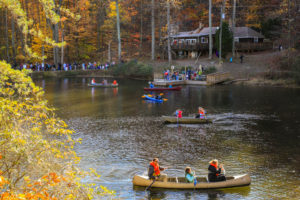 Meadow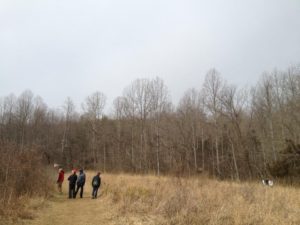 Glascock Gap
The Outdoor Lab property includes the historic Glasscock Gap through the mountains.  Civil War general JEB Stuart used the Gap during the civil war.
---